Huy Tran has over 14 years of experience in the HSE career with multiple industrial sectors, construction & Steel processing Factory. Starting from a role as a HSE Officer for a Construction site to a HSE Manager in the transportation, civil and industrial construction. Many achievements he has been obtained in the areas of international HSE management systems – ISO 45001: 2018, ISO 14001:2015 and the stringent of safety requirements from US / EU developer development and practical realization applicable to the fields.
He graduated as a Labor Safety Studies Engineer from the Ton Duc Thang University, He is studying for an MBA program, has undergone intensive training in safety including Emergency Response Team Leader, Monitoring Working Environment, Incident Investigation, Advanced First Aid, Scaffolding Advance Course, Rescue at Height, and certified lead auditor of ISO 45001:2018, ISO 14001:2015 … which contribute to share safety orientation to WSO VN's member.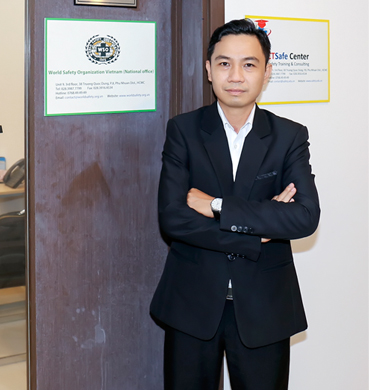 Huy is also an active player in doing social work in several NPO and NGO.
He is the Board of Director of World Safety Organization (WSO) 

National Office for Vietnam and

Huy is the Co-Founder for Ho Chi Minh Occupational Safety and Health Association (HOSHA) that serves people working in the fields of occupational health, safety and environmental health.